BEER NO GET ENEMY
Leading the way in flavor, innovation and style
We're on a mission to introduce West Africa to better beer, while building an eco-friendly, community focused and part-employee-owned craft brewery.
Born from a desire to create something infinitely better, the same spirit of quality, sustainability and fun time endures in Bature Brewery to this day.
We're not a faceless, push-button, beer making factory; our brewers and taproom staff love craft beer almost as much as they do the community surrounding it.
Having built the country's first ever microbrewery in 2017 - equipped and established in the nation's capital, Abuja - we have continually grown and now operate our ever expanding brewhouse from our facility on Victoria Island.
Our brewery and taproom is the heartbeat behind the craft beer community in Lagos, with good times that flow as readily as the delicious cold beer from our draft taps.
Although running a brewery and taproom is fun, we take seriously the responsibility we have towards our team members and to the earth from which we draw water and harvest malt and hops to make tasty beer.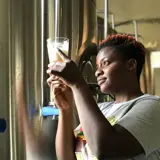 Order online
Beer no get enemy - Join the Nigerian craft beer revolution today!
Our beers are delivered locally and served fresh in and around Lagos and Abuja to an ever expanding customer base focused on quality and craft.